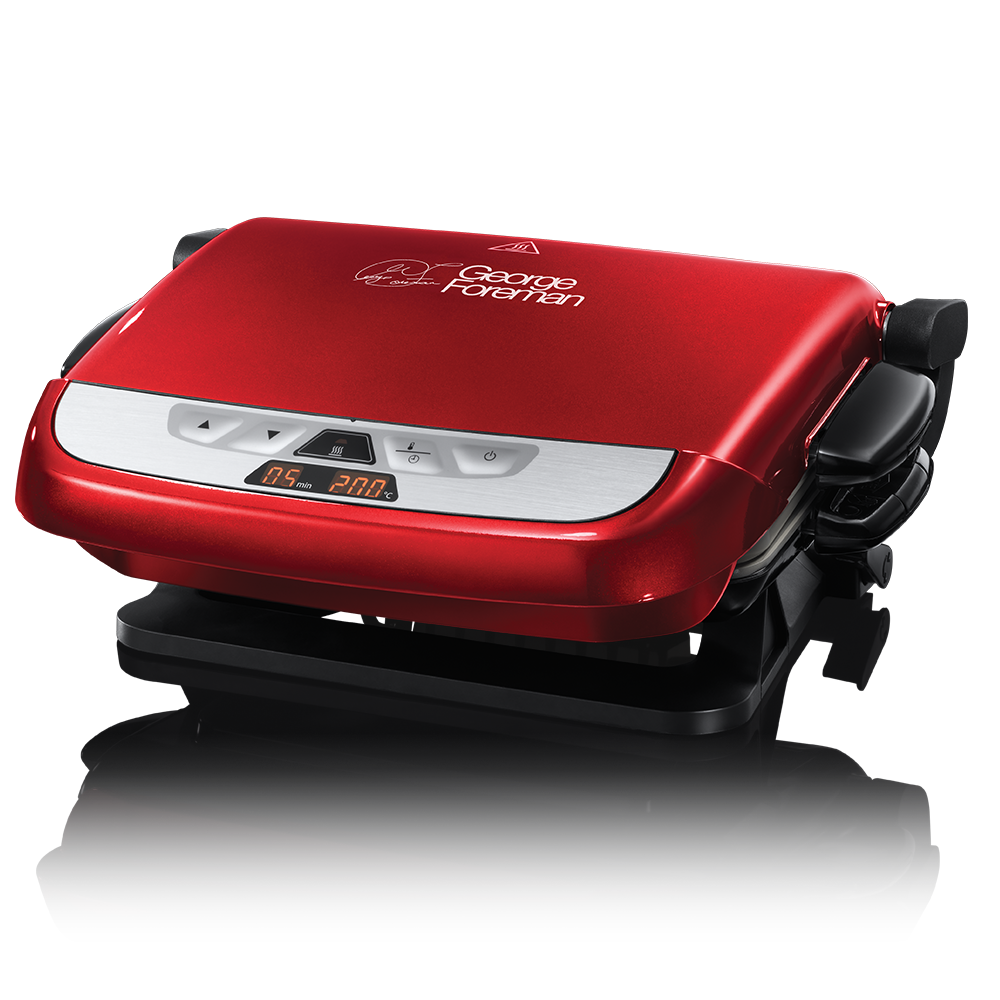 Evolve 5 Portion Red Grill with Omelette Plates
21611
Say hello to the new and improved George Foreman Evolve Grill! The 5 portion Evolve Grill system comes with additional plates which take conventional grilling to the next level, allowing you to grill a large variety of your family favourites and even experiment with a whole host of new recipes.
Super Sear Function
The Super Sear function means that you can achieve restaurant standard searing result in your home. At the push of a button the grill heats up to an intense 260⁰ for 90 seconds which is the optimum heat and length of time for a perfect sear allowing you to impress your guests with a perfectly cooked steak!
Additional plates take this Grill to the next level
The George Foreman Red Evolve not only comes with the standard non-stick ceramic coated plates but also comes with two interchangeable omelette plates and a deep pan attachment. The omelette plates allow you to cook perfectly formed tasty treats and because there are three individual sections you can tailor each omelette to individual tastes meaning one meal can feed the whole family – even the fussy eater. The deep pan attachment completely transforms this grill allowing you to cook everything from casseroles to cakes!
Also available to buy separately are additional waffle plates which cook waffles to perfection but with ease for a delicious breakfast or dessert treat.
Designed with you in mind
Designed with you in mind the George Foreman Red Evolve features an adjustable foot which means you can set the grill flat when you don't need to channel away fat – great for toasting sandwiches or grilling vegetables and fish. A Dual LED display which features a digital timer allows you to control the temperature meaning you can cook more delicate foods such as fish to perfection, whilst removable dishwasher friendly plates means that cleaning your grill is easy!
Grilling with up to 42% less fat
George Foreman's patented grilling angle means that the gentle pressure from non-stick plates channel up to 42% of fat* from foods into the drip tray meaning you can enjoy your favourite foods with fewer calories.
Read more
Removable dishwasher safe grill plates
Adjustable for flat or angled cooking
Cooks up to 5 portions
Dual LED display with digital timer and variable temperature
Sear function – intense 260°C heat for 90 seconds
Includes 5 cooking plates:
2 ceramic coated grill plates
2 non stick omelette plates
1 non stick coated deep pan
*Measured against 20% fat content beef burgers (113g)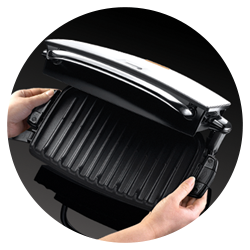 Removable Plates
We've made cleaning you grill even easier! The latest George Foreman now has detachable grill plates that you can soak in the sink or pop in the dishwasher, it's as simple as that for removing that stubborn food residue.
Digital Timer
The latest George Foreman grills have a digital 20 minute timer, meaning you can set the desired cooking length of your food and be notified when the time is up.